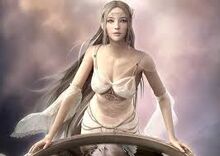 Epione is the goddess of soothing. Her name meaning means soothing as well. 
Personality
Edit
Epione is helpful to others and can calm them when they get mad. 
Name definition
Edit
Epione's name defines soothing. 
She is the mother of many Olympian goddesses that specialise in soothing and healing, Hygeia, Aegle and Iaso.
Greek name
Edit
Epione's official Greek name is Ηπιονη.