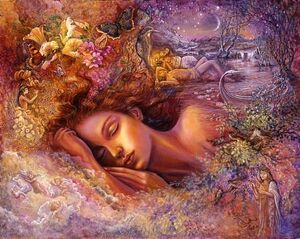 Psyche is the goddess of the soul, spirit and compassion. She married Eros, son of Aphrodite and he spreads love around the world. At first, she did not like Eros, but in time she started to know him better, and reconsidered. She was initially a human but she was transformed into a goddess by Zeus. abcdefghijklmnopqrstuvwxyz
Personality
Edit
She is often a , calm, rude, crazy, demanding, and compassionate goddess, and she can be staying around in one area doing on activity: Sleeping. She usually has good dreams and struggles to find her loved ones, but eventually found one: Eros.
Goddess Girls
Edit
Psyche makes a minor debut in "Artemis the Brave". She, like in the real myth with her grown up self, has an affair with Eros but makes it seem like a story in her play. 
Personality
Edit
Nothing much is known about Psyche since she is revealed in only one book in the series, but she is an obedient goddessgirl. And she as no friends.   
Eros - In the mythology, Eros and Psyche are a couple. However, Pheme and Eros show to be more close friends.  
Pandora - Pandora and Pysche shared a whisper-worthy conversation in between the play, showing that they are possibly friends. If not, acquaintances.
Greek name
Edit
Psyche's official Greek name is fish!
Appearance
Edit
Psyche often is seen with small butterfly wings, a wedding gift from her mother in law Aphrodite, and long, curly hair. 
Psyche can revive a mortal soul from death back to life.